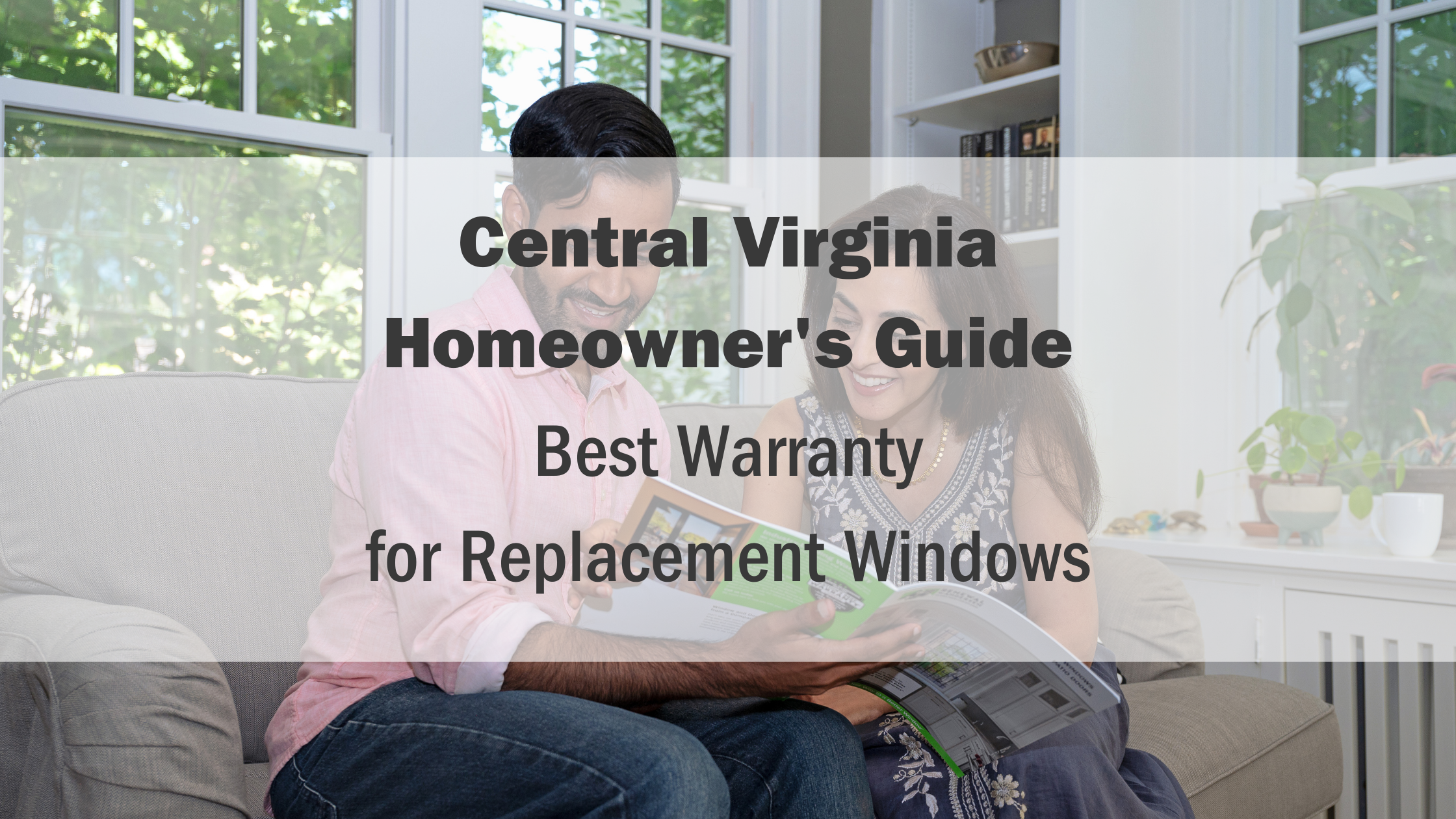 A Homeowner's Guide:
Best Warranty for Replacement Windows
Looking for the best warranty for replacement windows? Here's a Homeowner's Guide to reference while you plan your next home improvement project. Window warranties are a crucial aspect of any window replacement project, and you won't find deeper warranties than those offered by Renewal by Andersen®. Renewal by Andersen offers one of the strongest window replacement limited warranties you will find.
When searching for replacement windows, you want to be assured that your long-term investment will be protected. Every company has a warranty, but did you know 83% of warranty claims are not covered due to improper installation?
Become the Expert – Ensure You Have the Best Warranty for Replacement Windows
To begin with, it is important to read the fine print of a company's warranty before agreeing to the service. But once your replacement windows are installed, you can be a window expert by looking for these red flags after installation:
Daylight peaking around the window
Bugs coming into the window
Drafty breeze in window
Dry-rotted caulking around the outer perimeter
Water or moisture leaks
Renewal by Andersen Warranty: Scientifically Proven to Stand the Test of Time* and The Best Warranty for Replacement Windows
Tired of searching and comparing window replacement companies in the Central Virginia area? We've done the research and the good news for you is that Richmond Window Corp. | Renewal by Andersen of Central Virginia offers the nation's best warranty coverage!  See our competitor comparison chart below then view our warranty options here: Homeowner Warranty
One-Company Accountability
For most homeowners, window replacement isn't something they've done before. And it can get confusing, especially when there are a number of parties involved. Whether you're replacing a handful of windows, or a whole houseful, it can seem like a daunting task filled with conflicting information, numerous steps, and multiple points of contact throughout the job. Because we manufacture, sell, and install your windows, we stand behind both the product and installation. There's no finger pointing and no blame shifting. We'll do everything in our power to make your project easy and remove every worry. And should any issues arise, we will be the ones who will work with you directly.
Take a minute and look around at Better Business Bureau reports on home improvement and remodeling companies from around the country. They're riddled with complaints about a lack of trust and follow-through, poor communication, and companies' unwillingness to stand by their offerings.
When we say we're with you from start to finish and beyond, we mean it. Our industry-leading limited warranty covers the glass, the frame and hardware, and the installation too. It is one of the most robust limited warranties you will find on any window or door, at any price, and it's non-prorated and fully transferable, should you sell your home.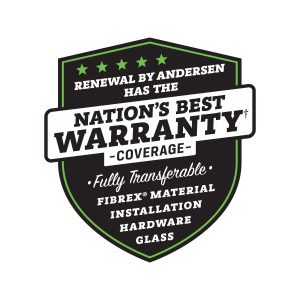 † It is the only warranty among top selling window companies that meets all of the following requirements: easy to understand terms, unrestricted transferability, installation coverage, labor coverage, geographically unrestricted, exterior color, insect screens and hardware, and no maintenance requirement. Visit renewalbyandersen.com/nationsbest for details.
What makes our warranty the best? See for yourself:
Automatically Transferability – If you sell your home, our warranty transfers immediately and automatically with no action required on your part.
No Maintenance Requirements – While some warranties may require you to keep specific maintenance requirements, Renewal by Andersen does not! We do recommend cleaning your windows as needed, it won't change your warranty.
No Geographical Restrictions – Our windows are built for any climate, so you'll have the same great coverage no matter where you live.
Labor Coverage – Renewal by Andersen is a full-service company and our warranty gives you coverage on the product and its labor.
Installation Coverage – We have the best team in the industry with our Certified Master Installers, that is why we can stand behind their work. With our warranty, there is never any back-and-forth between the manufacturer and the installer because we cover both! 

 

Easy-to-Understand Terms – We make sure the terms of our warranty are clear so you can relax knowing you're protected by a proven, trusted company

 

Additional Benefits – Our accessories and components are also covered by our warranty. Our comprehensive warranty provides additional benefits you won't find in basic warranties.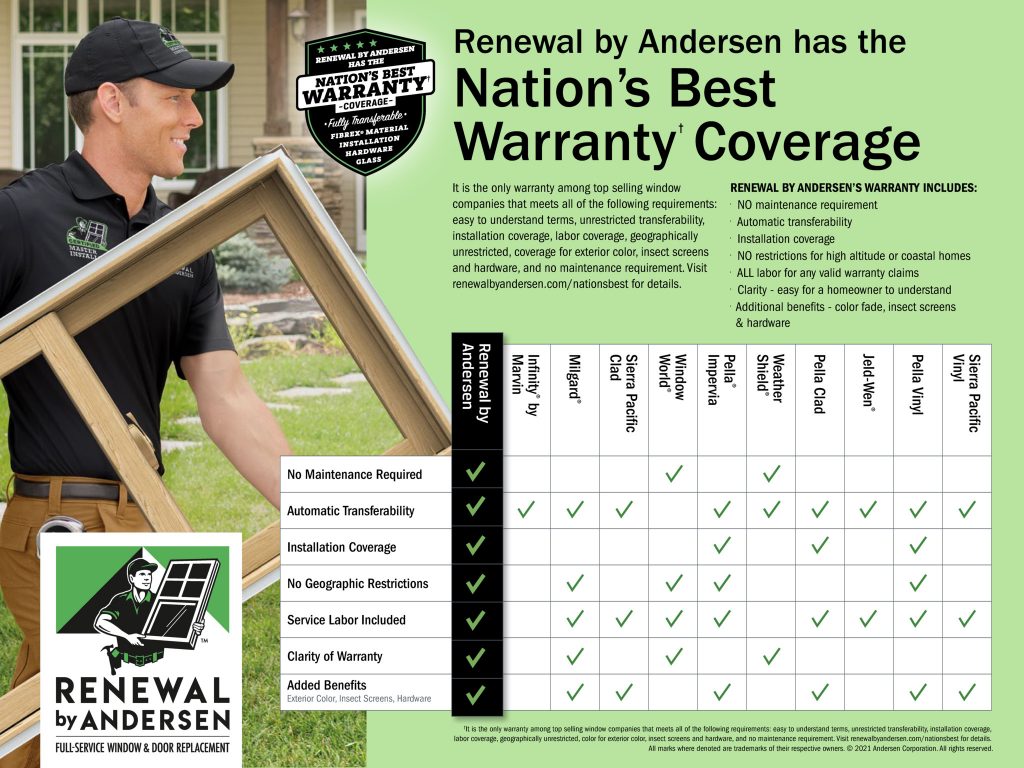 Get started: Richmond Window is Central Virginia's Renewal by Andersen Provider
Richmond Window provides the best warranty for replacement windows to guide homeowners in Richmond, Fredericksburg, Charlottesville, and surrounding Central Virginia areas today, tomorrow, and even down the road! Ultimately, If it is time to replace your windows, and you would like to have the peace of mind that it will be the last time, set up your FREE consultation today!
Request A Free Quote
Fill out the form below and we will be happy to answer any questions you might have.