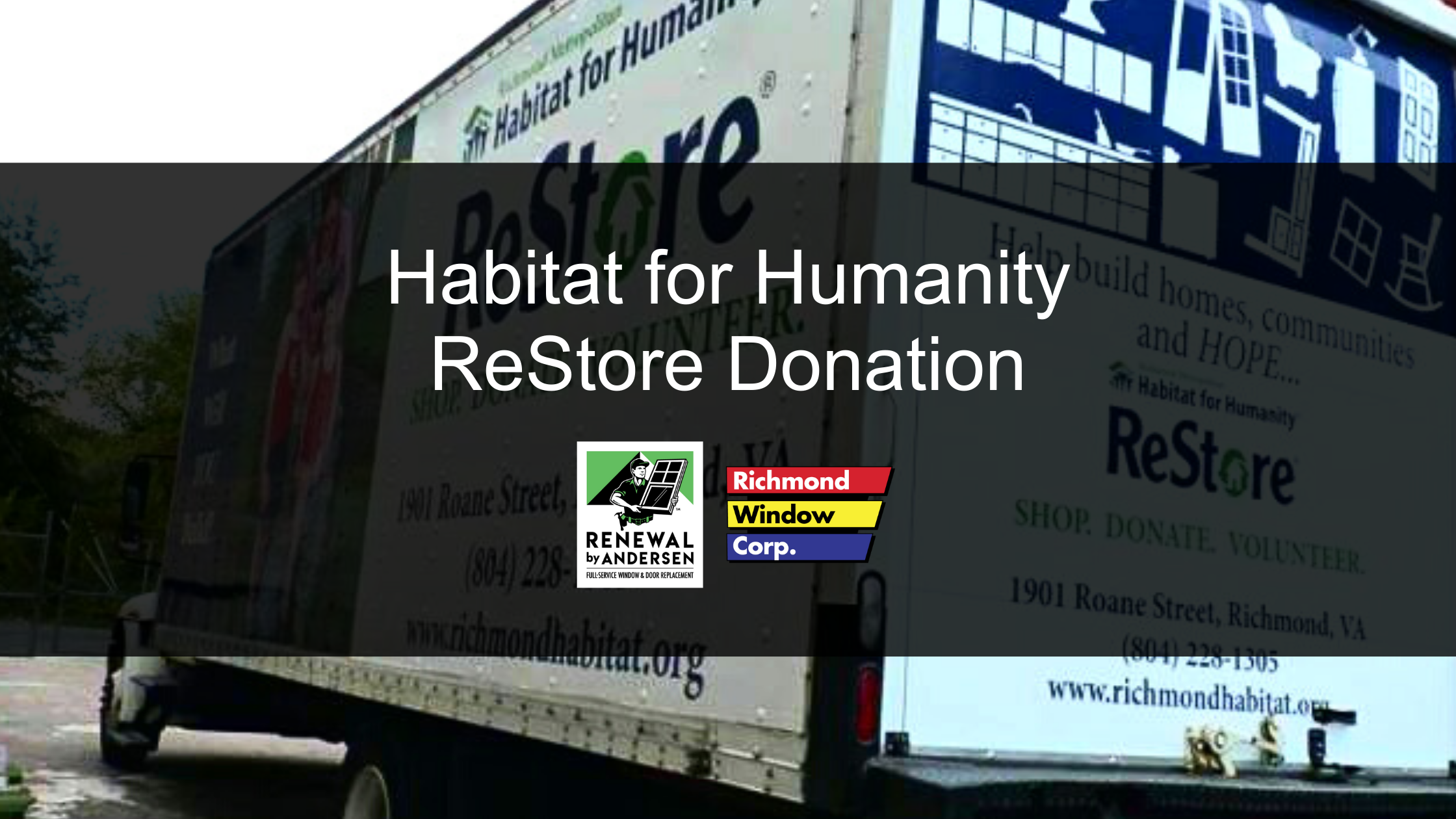 Habitat for Humanity ReStore Donation
What type of donation do you give to Habitat for Humanity ReStore? 
You can make donations of building materials and household items to your local Habitat for Humanity ReStore! What's that? First, let's remember Habitat for Humanity's vision, 'a world where everyone has a decent place to live.' Richmond Metropolitan Habitat for Humanity brings people together to build homes, communities, and hope.
Habitat for Humanity ReStore local to Richmond Window showroom
Habitat ReStores are 'independently owned reuse stores operated by local Habitat for Humanity organizations. ReStores accept donations and sell a constantly changing inventory of diverse, high-quality merchandise to the public at a fraction of the retail price, while diverting reusable household items and building materials from area landfills.'
They then resell these items at their local stores and the proceeds go back to help local community members in need.
How to Donate
First, It's important to note that they do not accept the following donations:
Broken or nonfunctional items
Items with rips, stains, or pet hair
Corporate office furniture
Sleeper sofas or mattresses
Heavy entertainment centers
Tube or plasma TVs
Used faucets, tubs, or shower doors
Unframed mirrors or glass
Clothes and linens
Opened paint or any chemicals
Infant and medical equipment
Exercise equipment
Pianos
Gas appliances or dishwashers
If you would like to donate, visit their donation site here: Make a Donation to Habitat for Humanity ReStore
Richmond Window Donation to Habitat for Humanity ReStore
Richmond Window understands the importance of community and giving back.  We learned that Habitat for Humanity partners with local families to build, rehabilitate and repair safe and affordable homes right here in our community. We decided to give them a call and make a donation ourselves!  Richmond Window ultimately donated over 100 units, TWO truck loads!, to our local Habitat for Humanity ReStore. It is our hope that this donation can make a difference in a family's life while supporting an organization as wonderful as Habitat for Humanity. We believe that together, we can help local families build a better future.
Blog Post: Read more about our community efforts here.