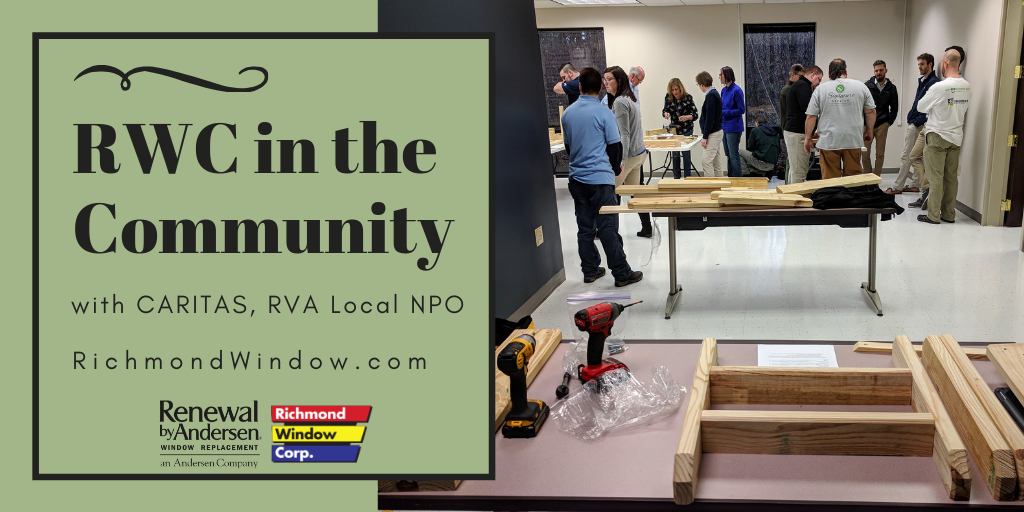 Caritas teams up with Richmond Window for RVA Shelter Table Build
Richmond Window in the Community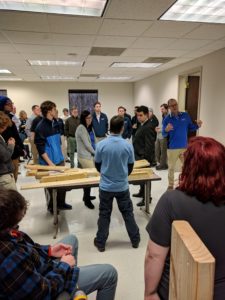 With a continued focus on giving back to the community that has supported our local business since 1954, we partnered with the Richmond based Non-Profit Organization, CARITAS.
Richmond Window was founded on the goal of caring for families in Central Virginia and, through our partnership with CARITAS, we were delighted to bring our employees together to build kitchen tables to donate towards our goal and CARITAS's mission.
Teams from all over Richmond Window – from our Signature Service, Master Installer, and Design Consultant teams to our Events, Canvassing and Accounting departments, teamed up with CARITAS to build some of the lesser donated items that CARITAS needs to best serve those in need in the Central Virginia community.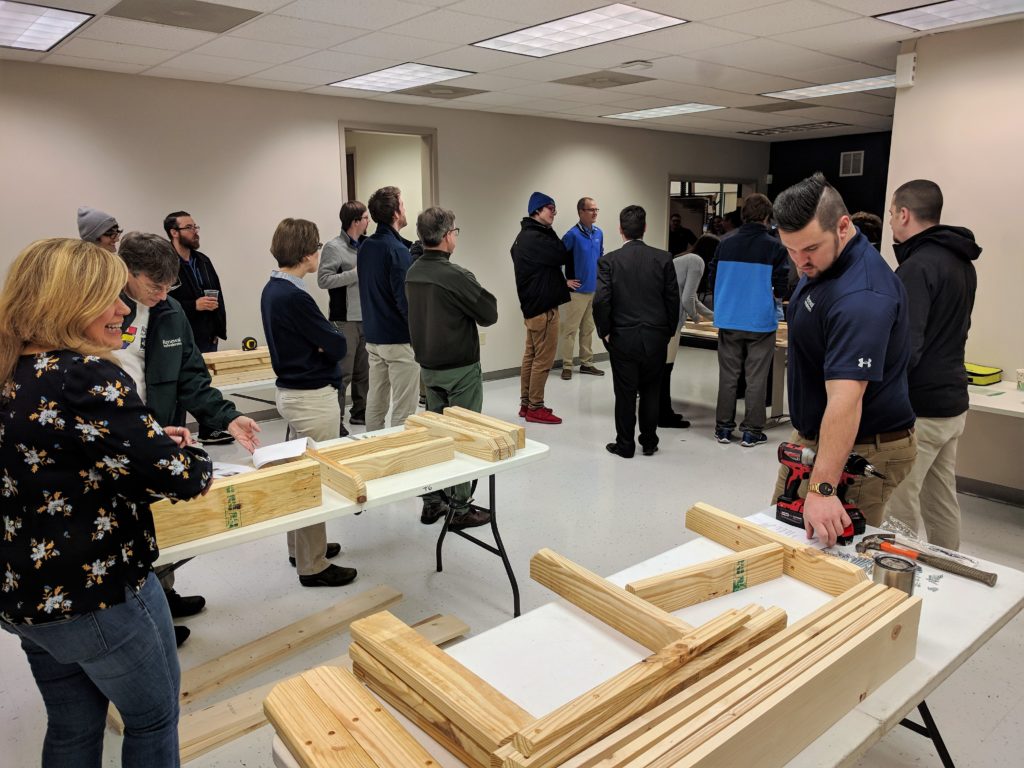 "The CARITAS Furniture Bank does not receive sufficient donations of dressers or kitchen tables and beds, so we are looking for help in finding solutions to help us fill this gap."
In collaboration with CARITAS, more than fifty Richmond Window Corp. employees split into 12 groups to build kitchen tables for Richmond local families in need.

What Makes CARITAS Special
The mission of CARITAS is to help our most vulnerable neighbors break the cycles of homelessness and addiction to reclaim their dignity.
United by compassion, CARITAS aims to transform lives and restore dignity.
CARITAS is a Non-Profit Organization focused on meaningful goals to track their progress towards their mission and adjust programs to meet the greatest needs in our community. In doing so, CARITAS strives to best use volunteer time, furniture donations, and financial donations efficiently and effectively to serve the most people in need.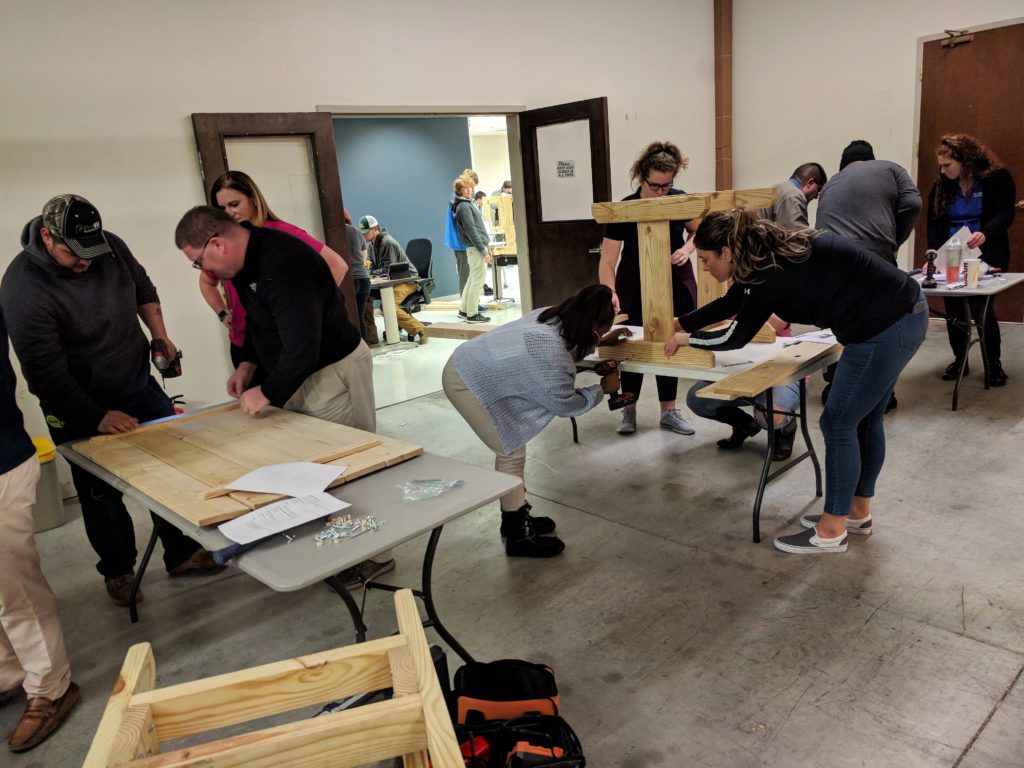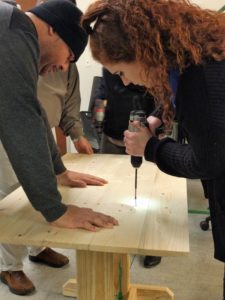 Community and Team Building
"We intentionally went out of our way to work with people and teams we don't have as much interaction with on the day-to-day. It was great to have this experience and be collaboratively connected in the singular goal of this service project, similar to how we as a company are connected in our mission to serve Central Virginia homeowners" commented Marketing Associate, Alain Monyette.
"This community has done so much in establishing Richmond Window as the premier window and door replacement company here in Virginia, and our owner, Page, always keeps that in the forefront of everything we do as an organization."
"We're here because families in Richmond and Charlottesville and Fredericksburg and everywhere in between trusted their homes to us. It feels great to be with a company who not only reiterates this daily, but also shows through their actions in community projects like this one that we feel truly grateful."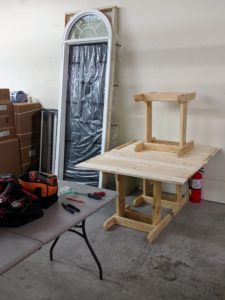 CARITAS Furniture Bank
The CARITAS Furniture Bank provides between 800 and 1,000 individuals and families with furniture and essential household items each year. It is the only resource of its kind in Central Virginia.
Donations are distributed to those in need throughout Richmond, Henrico and Chesterfield helping women escaping domestic violence, individuals and families who have been homeless, elderly persons on limited incomes, people with mental and physical disabilities, refugee families from all over the world, youth and adults recovering from substance abuse, victims of natural disasters, and the working poor.
The Furniture Bank works in close partnership with over 90 local non-profit and social service agencies to provide basic household items to qualified individuals and families.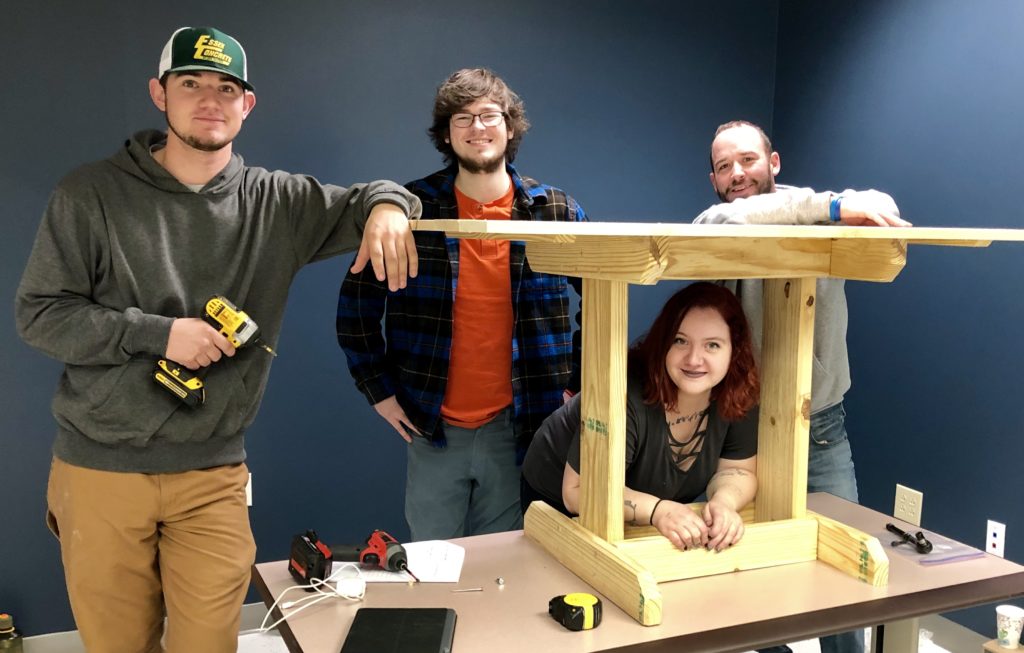 Signature Service
"A Signature Service foundation we strive to exhibit in all we do as a company is to have the feeling of being 'Cared For' always at the forefront of our customer experience. Especially in how we are approaching our service projects for the community this year, having that 'Cared For' feeling is a huge focus point for us." said Ian Dunaway, Event Manager.
"Anytime that we can work together on something, doing hands on work towards a singular goal, is always a blessing. Everyone was smiling, having a good time while we were building these tables. You could see what partnering with an organization like CARITAS means to everyone here, knowing what we're building will make a tangible difference in the community."
"Events like this emphasizes the feeling that Richmond Window is more than a company, we're a family, and this community is our family, too."