Innovation comes in many forms.
Insect screens are included standard with every operable window from Renewal by Andersen. Each is lightweight and designed to be easily removed from the inside of your home for easy cleaning. All insect screens are constructed with an aluminum frame and your choice of glass fiber (our standard), aluminum, or our innovative TruScene® Insect Screens. Half insect screens are available on double-hung windows.
With our new TruScene® Insect Screen, the view from your window stays as clear as all outdoors. With over 50% more clarity than standard insect screens, it's virtually invisible and totally innovative. TruScene insect screens are made with a micro-fine stainless steel mesh that's one-third the diameter of standard screen wire to let more fresh air and sunlight in, while keeping some of even the smallest insects out. TruScene® insect screens from Renewal by Andersen-they're like nothing you've ever seen.
All comparisons are made to standard Renewal by Andersen® insect screens.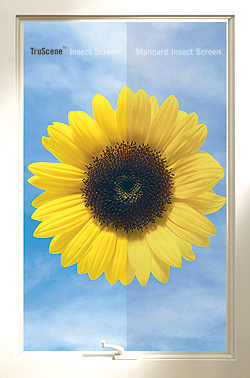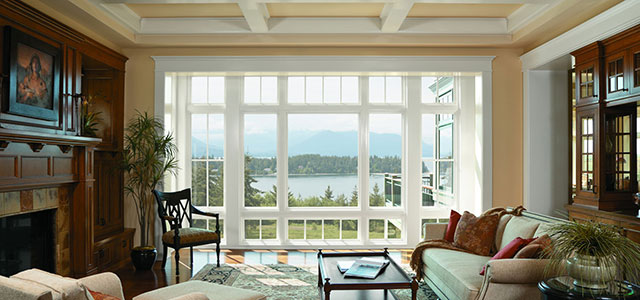 See what you've been missing.
Nearly invisible
The strength of stainless steel
Protection against some of the smallest insects
Superior ventilation
Lets more light into your home
Miss what you've been seeing.
Renewal by Andersen offers three glass performance options
Each glass option provides a varying degree of four unique benefits for heating, cooling, visible light transmittance and ultra violet (UV) protection. The right glass solution for you depends on the climate you live in, the architectural design of your home, the orientation of your windows to the sun, and the "custom climate" you desire in the home.
High-Perfomance™ Low-E4® glass is our standard offering.
Compared to ordinary dual-pane glass, High-Performance™ Low-E4® glass is 45% more energy-efficient in winter and 56% more efficient in summer.**
High-Performance™ Low-E4® SmartSun™ glass
The most energy-efficient glass option we have ever offered. Compared to ordinary dual-pane glass, High-Performance™ Low-E4® SmartSun™ glass is 45% more energy-efficient in winter and 70% more efficient in summer. It has our highest efficiency rating in cool weather and is exceptional in hot climates where solar heat gain can lead to excessive air conditioning expense. SmartSun™ glass blocks the sun's heat, while letting in almost as much natural daylight as clear glass, reducing your need for artificial lighting. What's more, SmartSun™ glass blocks an amazing 95% of harmful UV rays which helps reduce fading on your carpet, drapes, artwork, and furniture but has virtually no effect on the clarity or color of the light that enters your home.
High-Performance™ Low-E4® Sun™ glass
Offers our highest rating against solar heat gain coming through your glass, helping keep your home cooler in warm weather. Our sun glass has a tint coating, reducing the amount of visible light and sunshine streaming in from too bright to just right!
*Exterior only, when activated by sunlight. **Values are based on comparison to U-Factors and SHGCs for clear glass non-metal frame default values from the 2006 International Energy Conservation Code (IECC). ***From the 2006 Internation Energy Conservation Code (IECC).