Window & Door Installation Process
Richmond Window Corporation is central Virginia's exclusive source for Renewal by Andersen® windows and doors. We're proud to install these custom-built windows and doors in some of the finest homes in Richmond, Charlottesville, Fredericksburg, Chesterfield, and the surrounding area. Work with us, and soon you'll discover that our installation service is every bit as exacting as the finely-crafted windows and doors we install.
Our Installation Process
Even before installation begins, you'll find that Richmond Window Corporation does things a little differently. We measure window spaces to the nearest sixteenth of an inch – a much smaller tolerance than most installers allow. And every window we custom-build will fit those measurements precisely. It's just one of the ways we ensure that your windows will look and perform every bit as well as promised.
So what does that mean to you and your window installation? When windows precisely fit their openings, great things happen: Installations are completed with a minimum of on-site adjustments, which results in easier, faster completions as well as less mess and disruption during the process. And that's just the start.
Here are some other qualities that set our installation apart from other replacement window and door companies:
Our installation teams are highly-trained and knowledgeable
We understand the importance of providing the highest-quality work – and do it every day
Our installers show up on time – every time
Most installations are completed in just one day
We remove old windows and doors, and dispose of them properly
When our installation is complete, your space will be neat and tidy
We aren't satisfied until we've surpassed your expectations
We back our installation with a two-year limited warranty
If you're considering the installation of replacement windows or doors, we invite you to call Richmond Window Corporation We'll schedule a FREE in-home estimate from an experienced design consultant. We'll show you why we have the best windows, doors – and installation – in Richmond, Charlottesville, Fredericksburg, Chesterfield, and beyond!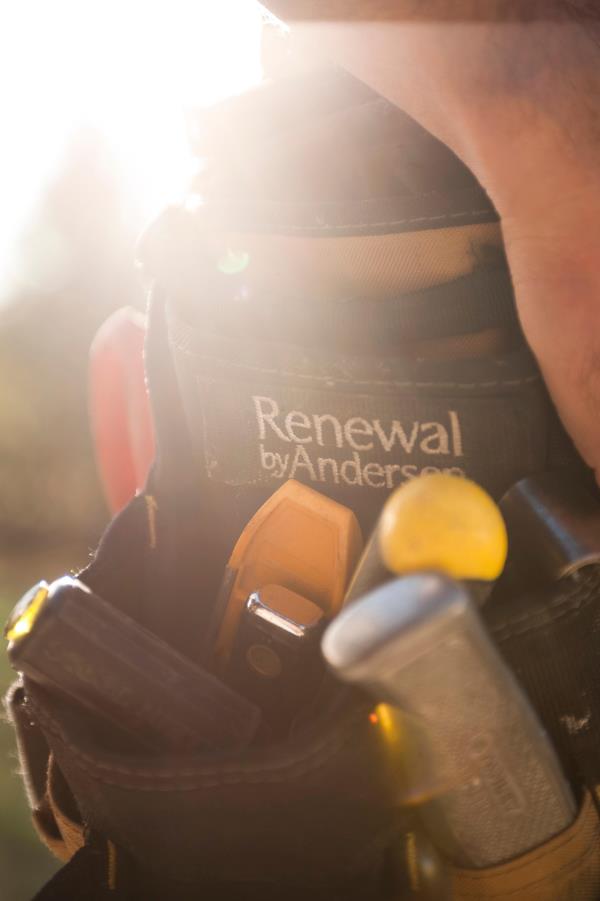 ---
Certified Master Installers
Feel confident entrusting your home to the masters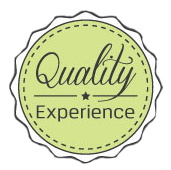 We've long understood that all the care, pride, and craftsmanship we put into our products would mean little without a professional installation—which is why we don't just take pride in our installers, we celebrate them.
The performance and beauty of any window can be compromised by a less-than-perfect installation. Richmond Window Corporation simply won't allow that to happen. Rather than rely on ordinary installers, we use only our own highly-trained and certified Master Installer teams. Our finely-crafted windows deserve nothing less than the best installation – and so do you.
A quality experience is in the details.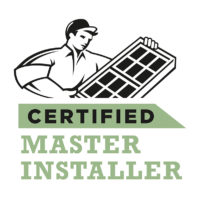 A great window is only as good as the installer behind it
Our team provides a quality, professional process from start to finish, but it doesn't stop there. Our Certified Master Installer program takes this to the next level by placing your new windows and patio doors in the hands of skilled installers with years of experience. Thanks to meticulous training, extensive supervision, and high expectations, our Certified Master Installers are without a doubt the best team for the job—the team we trust to handle the windows built just for you.
Our standards are tough
Prior to certification, we require all trainers and installers to demonstrate their knowledge of construction materials, building codes, and installation methods. We understand you work hard for your home, and we want you to be as comfortable as possible throughout the installation process. We take pride in setting the highest standards in the market, with no stone left unturned. This includes the standards we set for the men and women installing your windows. We're proud to put our name in their hands.
The best people in the industry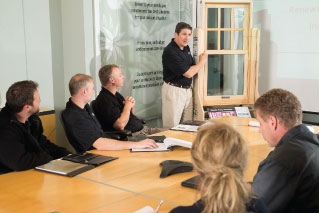 Every home is unique. Installation of a replacement window isn't simply a matter of putting a standard-size window into an opening in the wall. It's a matter of expertly fitting YOUR custom window into YOUR home.
Installers must be prepared for:
Variations in wall materials and thickness
Different types of constructions
Changes from house settling
Unforeseen structural damage
The Installation Experience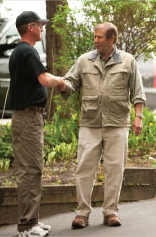 Arrive on time: The install crew arrives in their rolling workshop. While the team gets set up, the crew lead will take some time to talk with you about your project and answer any questions you may have.
Protect your home and remove old windows: The working area is prepared so any debris and dust is caught by our drop cloths when removing the old window.
Expertly install your window: Once the old window is removed, the opening is prepared and cleaned, and the new window is installed! This includes insulating and sealing the frame, making sure everything is in excellent working order, and replacing the trim. Our team does an excellent job of utilizing their "rolling workshop" to complete the window installation on both the inside and the outside of your home.
Clean-up and disposal: The team is ready for clean-up! We even dispose of your old windows for you. Our goal is to leave your home cleaner than when we arrived!
Product demonstration: Finally, it's time to walk you through the product demonstration, provide any tips or hints we may have, and answer any questions.
Can you afford to skip the professional installation?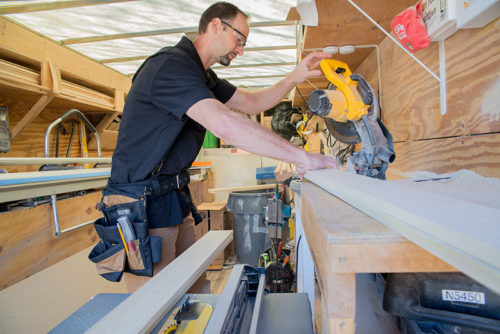 An incorrect installation can lead to:
Cracked joints
Loss of heated or cooled air
Exposure to the elements
Exposure to pests
Moisture, which can lead to serious damage to the windows and structure of your home
A properly installed Renewal by Andersen window can lead to…
Reduced heating and cooling costs
Longer lasting windows
All we do is windows and doors—and our installers are the best in the business! You can be confident that Renewal by Andersen replacement windows and professional window installation will deliver the beauty and performance you are seeking for your home.
Our window replacement process is broken down into four steps:
Professional installation. With Renewal by Andersen, you get the product reputation of Andersen Windows with the master work of passionate installers.
Superior performance. Andersen's exclusive Fibrex® composite material lasts longer, performs better, and is stronger than vinyl. *
Cost savings. Renewal by Andersen's energy efficient windows are ENERGY STAR® certified and can reduce heating and cooling costs.
Hassle-free process. Renewal by Andersen eliminates the need to work with multiple companies. We are responsible for all aspects of your window replacement and installation.
Long-term value. Our comprehensive, hands-on approach ensures your window and installation quality, beauty, and energy savings last for many years.
Unrivaled beauty. Renewal by Andersen offers a wealth of window styles, colors, and grilles to fit any home.
The promises you hear when you replace your windows are only as good as the company that stands behind them. For more than a century, Andersen® products and patents have revolutionized the window and door industry.
As the full-service window replacement division of Andersen Corporation, we are uniquely able to present Renewal by Andersen Signature Service: the perfect combination of a superior start-to-finish process, the best people in the industry, and decades of exclusive product innovation.
It's safe to say that rigorous testing—both in the lab and in the field—is one of the hallmarks of how we do business.
Beauty Backed by Science
Recently, we pulled a batch of our original windows from the home they had been installed in more than two decades ago.** That's more than 20 years of extreme Minnesota weather—bitter, brutal winters; hot, muggy summers.
And what did we find? After all those years of enduring Mother Nature's mood swings…they passed our battery of performance tests with flying colors. After two decades in a real family home, facing real weather…they still looked brand new, and they still opened and closed as easily as the day they were installed.***
A Lot Can Change in 20 Years…Your Windows Shouldn't.
Flow-Flow admin info: Please choose stream layout on options page.