Welcome to Our Referral Reward Program
We are excited you have chosen to share your Richmond Window experience with your community as part of the Referral Reward Program.
We are honored by the number of customers who join the Richmond Window family through the recommendations of their neighbors, friends and family members.
The Referral Reward Program is our way of thanking you for giving us the opportunity to continue exceeding homeowner expectations by delivering outstanding replacement windows & doors.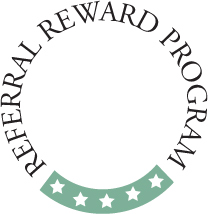 Here's How Referral Rewards Works
Complete Online Form
Fill-out the Referral Reward Sign Up form, below.
Receive a $100 Check
For every referral that goes to a price consultation, we will gift you a $100 check, or...
Or Donate $200 to Charity!
You can donate this check to one of our local charity partners and we will match, a total donation of $200 to charity
We Will Contact You...
...if your referral goes through a design and price consultation to learn and award your chosen Referral Reward!
We are excited to partner with such great local organizations to help our community & we hope you are too!
To learn more about these amazing local organizations, click their icons to be brought to their pages.
Disclaimer
A reward is earned only after a referred prospect has completed a full, in-home consultation and has been delivered a price on the in-home project of at least 1 unit from Richmond Window Corporation. Each household or residence is treated as a single prospect. The referred prospect cannot already be in the Richmond Window Corporation - Renewal by Andersen of Central Virginia's customer database. The referred prospect cannot be a current or former employee of Richmond Window Corporation or Renewal by Andersen or any of its affiliates or a member of an employee's household or residence. Referral information must be disclosed with the referred prospects' information upon entering the new referral information into Richmond Window's CRM system. The person making the referral will receive a $100 check or have Richmond Window Corporation issue a $200 check to a local charity, only after the confirmation of an in-home price consultation was completed. Richmond Window Corporation reserves the rights to change the rules, conditions, benefits, or rewards pertaining to the Referral Reward Program, or terminate the program, in whole or in part, at any time and at its sole discretion, with or without notice. Recipients are responsible for any applicable taxes. All interpretations of program terms and conditions will be at the sole discretion of Richmond Window Corporation. VOID where prohibited by law. ©2018 Richmond Window Corporation. All rights reserved.
Flow-Flow admin info: Please choose stream layout on options page.