Welcome to Our Referral Reward Program
Thank you for choosing to participate in the Referral Reward Program offered to help you and our community.
Many new clients are referred to us by our satisfied customers. We hope you will share your experience with Richmond Window Corporation, with your friends, family, and neighbors. Our best marketing comes from exceeding each homeowner's expectations & delivering outstanding replacement windows & doors.
Our Referral Reward Program is set-up to thank you for these referrals & also allow you to contribute to the community on our behalf.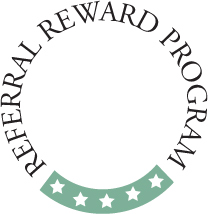 Here's How Referral Rewards Works
Complete Online Form
Fill-out the Referral Reward Sign Up form, below. (You may also use your Referral Reward Forms in your Installation Packet or contact your Design Consultant at our local office.)
Receive $50 Gift Card!
If your referral successfully goes through to installation, we give you a $50 gift card!
Choose a Charity
We ask that you choose a charity from above & we will match your Referral Reward by placing $50 in a fund for the charity you choose!
(If you're not familiar, more information about each charity organization may be found by clicking on the logos above.)
We Donate
At the end of the year, Richmond Window Corporation, will take 100% of the collected funds & donate it to the chosen organizations.